Local beer enthusiasts have good reason to celebrate following the news that local drinks company United Wines is launching Spain's best-selling draught lager Cruzcampo here in Northern Ireland.
Described as a 'well-balanced' lager (4.4% ABV), Cruzcampo originated in Sevilla more than 119 years ago and is one of Spain's most iconic and beloved beer brands, with a devoted following worldwide.
Now Craigavon-based United Wines, one of the biggest drinks distributors on the island of Ireland, is giving the Northern Ireland public a chance to enjoy an authentic taste of Spain with the introduction of the country's most popular draught beer.
Recent years has seen the demand for Spanish lager grow massively across the UK. With growth now standing at 73% year on year, one in every five pints sold across the UK is now from Spain.
Cruzcampo
Given the rapid rise of Spanish beer, United Wines Managing Director Martin McAuley is confident that the popularity Cruzcampo enjoys in its home country will be replicated in Northern Ireland.
"We are really excited to bring Spain's number one draught beer to Northern Ireland," said Martin.
"Spanish beers form a vibrant part of the growing 'world lager' market and Cruzcampo's commitment to quality and tradition aligns perfectly with our mission to offer our customers the very best."
"With almost half (43%) of premium and world lager growth since Covid coming from Spanish brands, we see an opportunity to launch Cruzcampo as an affordable trade-up option for lager drinkers in Northern Ireland who love to explore new brands and discover new experiences," he added.
In Andalucia, where it originated, Cruzcampo accounts for a staggering 70% of all draught lager sales. The brand offers a range of beer styles to suit every palate, from its classic Cruzcampo Pilsner to its bold Cruzcampo Gran Reserva.
Matthew Fitzpatrick, United Wines On Trade Key Account Manager, is delighted to see the brand make its debut in the Northern Ireland market, where it will be available in draught, bottle and can format.
"We are thrilled to introduce Cruzcampo to Northern Ireland and, with the increasing popularity of Spanish beers, we have hit the market at just the right time," said Matthew.
"Cruzcampo is part of the Heineken portfolio of brands which is dedicated to delivering exceptional products to consumers, and we're confident that together we can help beer lovers in Northern Ireland expand their horizons with a true taste of the Mediterranean sun.
"Not only is it a lovely refreshing pint, at an affordable price, it comes in a stunning and iconic pint glass that I'm sure will be in big demand and really stand out in bars across the province," he added.
Cruzcampo is available from United Wines in 50 litre keg, 330ml bottle, 660ml bottle and 440ml can.
As part of Freshers week, Orchard Thieves have been visiting student venues on their mini Freshers Tour and rewarding players with pints, prizes and more with their 'Think Outside The Fox' activation.
The interactive game, whose concept is based on The Cube, is a thrilling mental challenge that promises to test your mind, resilience and patience.  
The game consists of three levels and entering is as simple as 1,2,3 – just gather a team of four and get your game face on.
Level one comprises a card game (with a twist). You'll have to team up with fellow contestants and work together to solve the emoji puzzle. If you're good at deciphering movies via emoji catchphrases, then this will be a walk in the park.
If all members in the team have managed to secure sufficient points then congrats – it's time for level 2.
Here limits are pushed as one member from the team is nominated to undergo the final challenge and face adversity head to head – NO PRESSURE!
At this point, chosen players are challenged to swap red and green apples into their correct boxes. Trust us – it's harder than it sounds as you are competing under timed conditions.
Once the adrenaline has eased off, it's time to be marked against the other remaining teams. The 3 teams to complete the task within the fastest time frame take the leaderboard and win top prizes.
Everyone loves a giveaway, but it's even better when you are competing to earn the prize.
Do you have what it takes to step into the unknown and conquer the extraordinary? Have a go today! Keep an eye out on our socials for the next upcoming event. Don't say we didn't warn you.
About Orchard Thieves
The thieved apple taste best – drawing on years of cider heritage, we've stolen the best of generations of cider crafting, to create our own distinct, refreshingly smooth drinking experience. A taste that's effortlessly drinkable and made in our cidery in Ireland.
STAFF from Craigavon-based United Wines believe they have set a new record for serving the highest pint of Heineken® in Northern Ireland, all in aid of the Northern Ireland Hospice.
A team of 15 staff from United Wines, one of the biggest drinks distributors on the island of Ireland, took on the challenge to serve a pint of non-alcoholic Heineken® 0.0, via a 5-litre mini keg, at the highest peak in Northern Ireland as a fundraising event for the Northern Ireland Hospice. 
The team successfully completed their mission and raised £2,500 in the process, which will be match funded by United Wines to make a grand total of £5,000.   
United Wines Marketing Manager Andrew Hollywood said: "We first started planning for our charity climb of Slieve Donard at the start of the year and have been working hard ever since in preparation for what was undoubtedly a very tough challenge.
"Being able to enjoy a refreshing pint of Heineken® 0.0 at the top of Slieve Donard will live long in the memory for all of us and to be able to raise much needed funds for such a deserving charity as the Northern Ireland Hospice makes it even more special.  We'd like to thank all of those individuals and organisations who helped with our fundraising.
"As a company we are committed to making a positive impact in our local communities and we are already looking forward to our next fundraising challenge," he added.
Amanda Connolly, Corporate Fundraiser at Northern Ireland Hospice, added:
"We are absolutely delighted that United Wines decided to take on this super challenge in aid of Northern Ireland Hospice.
"It's only through the support of our local business community with fundraisers like this one that we can continue to provide specialist palliative care to people in the local community who need it the most!"
"We hope that the whole team enjoyed their refreshing pint up at the top!"
The United Wines fundraising team's challenge began at Donard Forest and followed the Glen River and then the Mourne Wall to the summit.
The six-mile round trip took approximately four hours to climb to the top and three hours back down with all participants making it safely back to base.
Founded in 1985, United Wines, a subsidiary of Heineken Ireland, is now one of the biggest drinks distributors on the island of Ireland.  Operating from an 80,000 square foot warehouse in Craigavon, with 55 staff on its books, United Wines distributes an extensive portfolio of beers, wines, spirits and soft drinks to more than 1,000 bars, restaurants, hotels, off licenses, cash & carries, regional wholesalers and national multiples throughout the country.
Here at United Wines, we are making the switch to electric cars as part of our changes towards a cleaner, greener and more sustainable future. United Wines, a subsidiary of Heineken, is involved in the Brew A Better World programme. This aims to reduce company wide carbon emissions by 30% by the year 2030. 
The Lurgan based company has begun to make changes from diesel cars and are moving towards electric models in efforts to reduce emissions and work towards green targets. The Business Development Team comprising a team of six will be the first to enjoy the eco-friendly cars, as they travel the most within the business. 
With a battery pack of 82 kWh, the new ID4 Volkswagen model is expected to last for around 400,000 miles. There are many advantages to electric cars, including being more cost-efficient to operate, with electricity costs per mile significantly lower than traditional fuel; and most importantly reducing carbon footprint, contributing to a healthier plant. 
Martin McAuley, Managing Director of United Wines commented:
With our sales team being out on the roads, we have become more conscious of the effect on the environment – thus, we want to reduce the amount of energy we need by using less and becoming more energy efficient. 
We're taking the right steps in reducing carbon footprint as part of a new greener scheme. These are the first steps towards a greener future and taking diesel cars off the road for good. 
Rory Hill, Company Accountant at United Wines added:
One of the key aims of the business is to play our part in a healthier environment for employees and future generations. Moving to zero emission cars will future proof the business and help reduce our carbon footprint in coming years. As a company we're proud to make a positive contribution and work towards greener targets.
For more information, contact marketing@unitedwines.co.uk. 
Three employees at United Wines have been recognised for their long service, having worked for the company for a combined total of 60 years.
United Wines Head of Finance, Siobhan McSorley, from Donaghmore, has been recognised having started in 2003. Siobhan was presented with a commemorative plaque and a gift voucher from United Wines managing director, Martin McAuley, to mark two decades at the company's County Armagh base.
Transport manager Arthur Watson from Ards, and planning and transport supervisor Darren Lynn, from Craigavon. were also presented with commemorative plaques and gift vouchers for 20 years service.
Founded in 1985, United Wines, a subsidiary of Heineken Ireland, is one of the biggest drinks distributors on the island of Ireland.
Operating from an 80,000 square foot warehouse in Craigavon, with 55 staff on its books, United Wines distributes an extensive portfolio of beers, wines, spirits and soft drinks from all around the world to more than 1,000 bars, restaurants, hotels, off licenses, cash & carries, regional wholesalers and national multiples throughout the country.
United Wines managing director, Martin McAuley, said:
"I'd like to personally congratulate Arthur, Siobhan and Darren on 20 years' loyal service and thank them for all their hard work during this time.
"In business, it's so important that you have good people around you and that's certainly the case at United Wines. We are lucky to have an amazing and hardworking team. We really couldn't run this business or enjoy the success we have to date without them."
On receiving her award, Head of Finance, Siobhan McSorley, added:
"I'm very proud to work with United Wines, and Heineken Ireland, for 20 years. It's definitely a significant personal milestone for me, and it's lovely to be recognised for that by Martin and the company.
"I started working with United Wines in 2003, when the company moved its HQ from Belfast to Lurgan, which was closer to home. It was one of the best decisions I've made and I've enjoyed every minute, although we've certainly faced some very tough challenges, particularly in recent years.
"I've had the privilege of working with many outstanding colleagues and being part of an organization that values its employees. I look forward to many more years of contributing to the company's continued success."
On Monday 26th June, we brought a slice of Italy to Belfast with our Birra Moretti 'Ciao Bella-fast' trade event – A night all about celebrating life's simple pleasures.
We transformed The National into an Italian paradise capturing the essence of Italian charm, with a touch of Birra Moretti magic. The vibrant hues of the green, white and red trio were of course woven into every detail and the tables were set with classic checkered tablecloths, evoking memories of cozy trattorias and al fresco dining. We even brought a touch of iconic Italian culture with none other than the classic red Vespa!
We truly embraced the spirit of 'la dolce vita' with some authentic Italian Gelato from Brook Avenue, charcuterie boards and delicious Pizza from Little Wing. The beer flowed freely too with unlimited complimentary Birra Moretti on tap through out the night.
The event was not just about food and drink though – It was a celebration of the Italian way of life, engaging in lively conversations and shared laughter with friends.
Musicians, Luigi Cirillo and Linley Hamilton transported us straight to the streets of Italy with their fantastic melodies which defined the heart and soul of Italian music. Whilst Shane Todd and William Thompson brought all the laughter, ensuring a memorable night.
Amidst the laughter and cheers, our guests were able to secure a piece of Birra Moretti memorabilia in the form of branded glassware, keyrings, bottle openers, umbrella's, cool-bags and more!
But the fun didn't stop there as guests had the chance to win big as a free trip to Italy was up for grabs. Tension grew and competitiveness was at an all time high as entrants were quizzed on their knowledge of Italy. Fortunately for Karen McKeever, luck was in her hands as she managed to secure the bag which contained the top prize!
As the event came to a close, we raised our glasses and cheers-ed to the memories made that evening. In a world filled with hustle and bustle, it's important to take a moment to celebrate life's simple pleasures; and that's exactly what we did at the 'Ciao Bella-fast' Birra Moretti Event!
Beamish Genuine Irish Stout is a rich, roasted and full-bodied Irish stout with dark chocolate and coffee undertones; a texture that is velvety smooth and flavourful in character, which encapsulates the modern taste of Ireland.
Based on research and testing, we found that Beamish has the potential to appeal to a younger, free-spirited consumer base looking for an alternative to the category leader.
Especially popular among the student market, and priced at great value, Beamish has subsequently gained recent listings in Queen's Student Union, The Morning Star and The Sunflower Pub. The rich and robust stout has thus witnessed an incredible 25% growth in popularity over the past six months. As a result of this increase and research in mind, we decided to put extra focus behind the brand.
With Beamish Genuine Irish Stout already a huge success within The Sunflower Pub, it made sense to visit the venue during their Open Mic Night gigs – think diverse, trendy, vibrant and rebellious customers which reflects the average Beamish consumer.
Consequently, to celebrate the growth beautiful Beamish, we give away free pints of the renowned stout during the gig – our way of saying thank you to all the new, existing, and loyal Beamish drinkers!
We're proud to announce that Beamish are now Official Sponsors of Open Mic Night – the perfect companion for an evening of artistic exploration and community connection. For more information on how to participate in Open Mic Night, visit @sunflowerpub on Instagram.
Discover the game-changing stout for yourself – Are you rebellious enough for Beamish?
To order, get in contact with our Sales Development team. An ABV of 4.1% | Available in draught and x4 pack cans.
Northern Irish sports fans will be able to nab a free pint of beer over the next few months.
In its first ever NI only campaign, the FANZO app will allow users to claim a free pint of Heineken at their local bar from April 1 until June 10.
The promotion will apply to all Champions League football matches, Europa League matches as well as rugby's Heineken Champions Cup matches.
The FANZO app is used by fans to find bars to watch sport socially. There are 50 bars across Northern Ireland that will be participating in the free pint offer.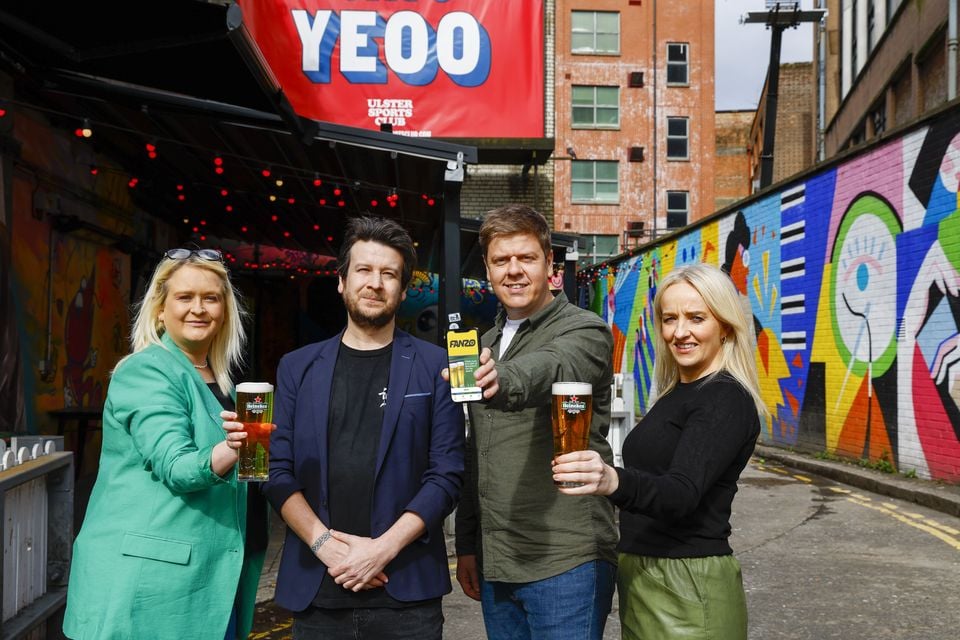 Gemma Herdman, United Wines Brand Manager, Johnny of the Ulster Sports Club, Matthew Clarke, FANZO Key Account Manager, and Maura Bradshaw, United Wines Business Development Manager. — © Phil Magowan / Press Eye
"We're so excited to launch the first ever FANZO campaign, completely exclusive to NI," said Gemma Herdman, Brand Manager for Craigavon-based United Wines, which handles all of Heineken's sales, marketing and distribution in Northern Ireland.
"Using the Bar Finder on the app, the best places to watch the big games that matter are right at your fingertips. You can book tables at your local, invite your mates and get the best seat in the house before sitting down to a mouth-watering free pint of Heineken."
Offer will also be supported by a digital outdoor campaign giving away hundreds of Champions League goodies, activity across trade outlets as well as a Heineken activation on June 10 to celebrate the Champions League final at the Ulster Sports Club in Belfast.
Heineken® is delighted to announce the launch of its Designated Driver campaign, rewarding those in the driving seat with a complementary Heineken®0.0 throughout the festive period.
With the sparkly season of parties and nights out upon us, Heineken®0.0 wants to encourage responsible drinking over the Christmas period and help designated drivers enjoy their night out while getting their friends and family home safely.
Partygoers who volunteer themselves as designated driver will be rewarded with a free Heineken®0.0 when they make themselves known to staff at participating venues by showing their car keys at the bar.
Without compromising on quality or taste, Heineken®0.0 gives consumers more choice and variety for all occasions and empowers those who can't or don't want to drink alcohol, to be involved in every beer and non-beer moment.
"We're delighted to launch this campaign to encourage the vital message of getting home safely and keeping the roads alcohol free during the busy upcoming party season. Even those who volunteer to drive deserve to enjoy their sober night out, so we're positive this Heineken® 0.0 initiative will bring some extra festive cheer," said Gemma Herdman, Brand Manager for Craigavon-based United Wines, which handles all of Heineken®'s sales, marketing and distribution in Northern Ireland.
 "We can anticipate a fair share of designated drivers this party season as one in every two consumers are looking to moderate their alcohol intake, which is reflected in sales data showing that the 'no and low alcohol' category has grown an impressive 506%* in the past six years.
"The no alcohol category is continuing to grow year on year with 1 in every 10 consumers looking to abstain from alcohol completely*." concluded Gemma.
 Heineken® master brewers started from zero and spent years exploring, brewing, and tasting before they finally created a zero-alcohol recipe defined by its refreshing fruity notes, perfectly balanced with a soft malty body. One that deserves the Heineken® mark.
The Designated Driver initiative will be running throughout participating venues from November 28th. For more information, visit United Wines website and keep an eye on its Facebook and Instagram pages.
United Wines was founded in 1985 and is headquartered in Craigavon with a 75,000 square foot warehouse and 6,000 square foot office. The company employs 50 people on the island of Ireland and boasts an extensive portfolio of products, including Wine, Beer, Spirits and Soft Drinks.
In 2017, the company, which employs 50 people on the island of Ireland, was acquired by parent company Heineken®.